Fabric and Upholstery Cleaner™
This cleaner cleans and remove stains from fabric and upholstery surfaces such as car seats, carpets, and floor mats. Can be use in your vehicle or in your home.
Sale price
£22.50
Regular price
£22.50
Unit price
per
Sale
Sold out
Your DrySparkle order will be delivered to you in 3 to 4 working days.

Orders aver £40 receive FREE Delivery, within 3 to 4 working days.
30 days money back guarantee

You have 30 days to try DrySparkle. If you are not happy with your product, we will give you a refund.
View full details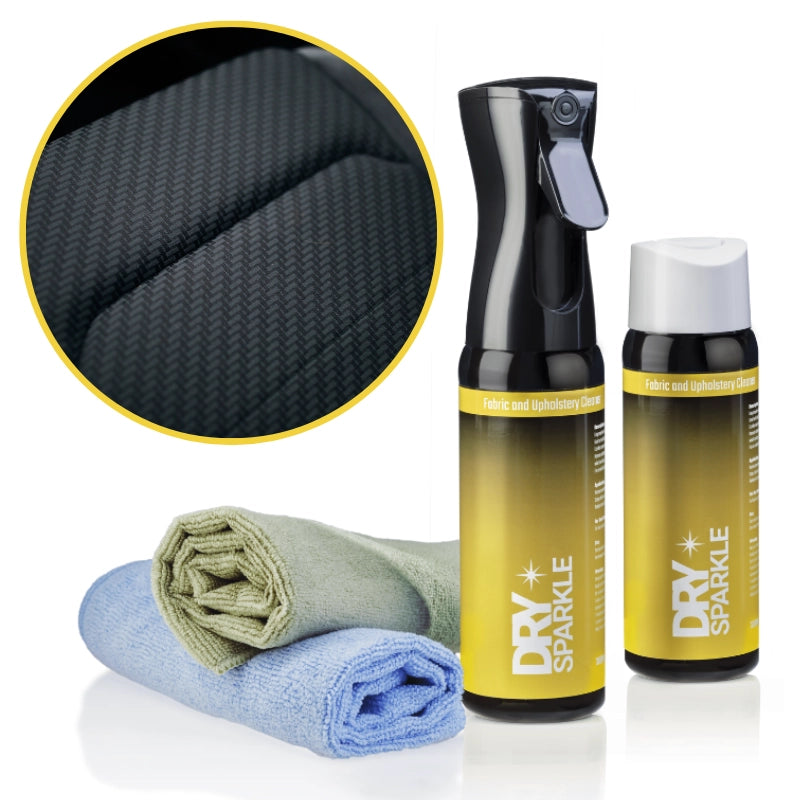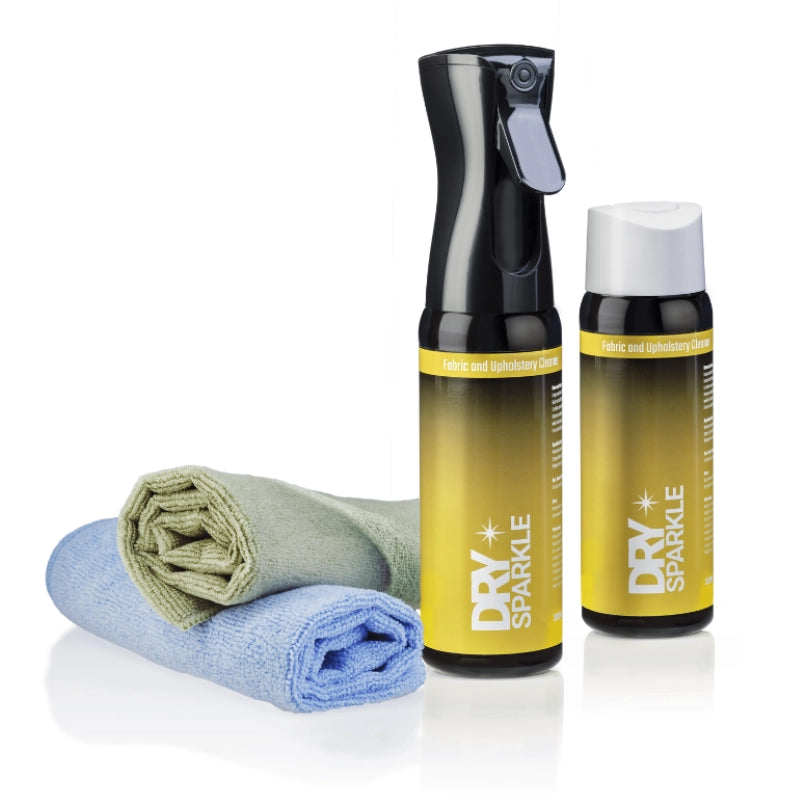 REVIVE YOUR VEHICLE'S INTERIOR
Our Fabric and Upholstery Cleaner is the ultimate solution for restoring the original look and feel of your car's interior. Whether you have kids, pets or simply love to drive, your car's fabric and upholstery can quickly become soiled and stained. Our powerful, easy to use formula is specially designed to effectively remove dirt, grime, and stains, leaving your car's interior looking like new again.
Rejuvenates Fabric and Upholstery Surface
CREATE A WELCOMING AMBIANCE
This formula is specially designed to remove stains, dirt, and grime from all types of fabric and upholstery, including cloth seats, carpets, floor mats, and even convertible tops. It's also safe for use on other surfaces in the interior of your vehicle, such as door panels and headliners. The cleaning solution is easy to use, simply spray it on the affected area and wipe it off with a microfibre cloth. Once the cleaning is done, the fabric or upholstery is left looking refreshed and rejuvenated.
&nbsp
Drive in a welcoming ambiance for your passengers and yourself.
QUICK AND EASY TO USE
Steps to use the product:
1 - Spray onto the area with the stain or dirt. Wait 30 seconds for the product to work.
2 - Then wipe the area with a microfibre cloth.
3 - If needed repeat the process.
THE FABRIC AND UPHOLISTERY CLEANER COMES WITH
1 x 300 ml bottle with a reusable trigger
1 x 300 ml refill bottle
2 x high quality microfibre cloths
When you have finished the bottle, remove the trigger and put it on the refill bottle.
Any questions about DrySparkle?
Is DrySparkle guaranteed?

Yes, we stand behind our product and offer a full refund if you are not satisfied with your order. Our top priority is ensuring our customers are completely happy with their purchase.
Where are you based?

We are proud to be based in the beautiful South of England, where we draw inspiration from our stunning natural surroundings. As an environmentally conscious company, we are committed to creating products that help preserve our planet. That's why we've developed a waterless cleaning solution that allows you to clean your vehicles without wasting water or releasing harmful chemicals into the environment. Our location and love for our environment are reflected in everything we do, from sourcing sustainable materials to our manufacturing processes.
Do you manufacture the products yourself?

Yes, we are proud to manufacture our product ourselves. We source all the hardware locally in the UK, and the DrySparkle solution is formulated to our exact specifications right here in the UK. This allows us to maintain the highest level of quality and ensure our product meets our high standards.
How does delivery work?

We have chosen to use Royal Mail for our deliveries as they offer full trackability and proof of delivery, while also providing good value for money. Their vast network allows us to deliver to customers not just in the UK, but worldwide, ensuring our customers receive their orders in a timely and reliable manner.

How long does the delivery take?

Our goal is to get your order to you as quickly as possible, typically within 2-3 working days. We understand the importance of timely delivery and work hard to ensure our customers receive their orders in a timely and efficient manner.