Tyre & Trim Dressing™
This cleaner gives tires and other rubber or plastic parts a matt finish and protects them from the elements.
Sale price
€26,95 EUR
Regular price
Unit price
per
Sale
Sold out
Your DrySparkle order will be delivered to you in 3 to 4 working days.

Orders aver £40 receive FREE Delivery, within 3 to 4 working days.
30 days money back guarantee

You have 30 days to try DrySparkle. If you are not happy with your product, we will give you a refund.
View full details
REVITALISE YOUR TYRES AND TRIMS
Our Tyres & Trim Dressing is the ultimate solution for restoring the original shine and colour of your tyres and other rubber and plastic parts like bumpers, grills, and door seals. Its easy to use formula enhances their appearance with a matt finish making them look new and well-maintained.
Nurture the Tyres & Trims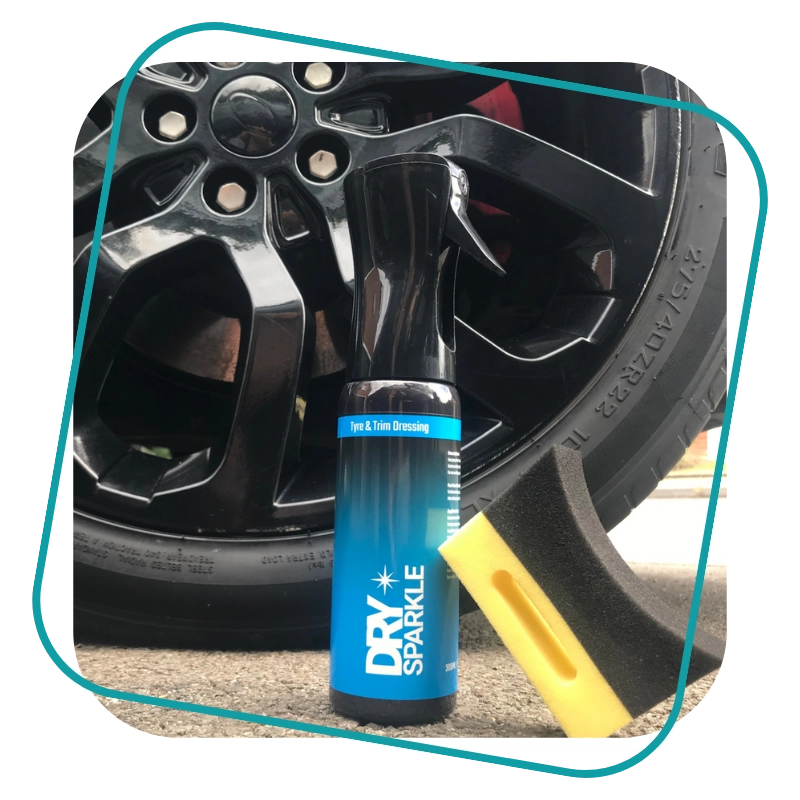 EXTEND THE LIFE OF YOUR TYRES AND TRIMS
Not only does our Tyre & Trim Dressing make your vehicle look good, but keeping your tyres and trim in good condition can help to extend their lifespan. The product can help to protect tyres and trims from the damaging effects of the sun, rain, and other environmental factors, by keeping the surface hydrated and preventing cracking, fading, and discolouration.
&nbsp
Improve the appearance of your vehicle by revitalising your tyres and plastics.
QUICK AND EASY TO USE
Steps to use the product:
1 - Use as supplied, spray onto the tyre, rubber or trim.
2 - Apply with the tyre sponge and leave to dry.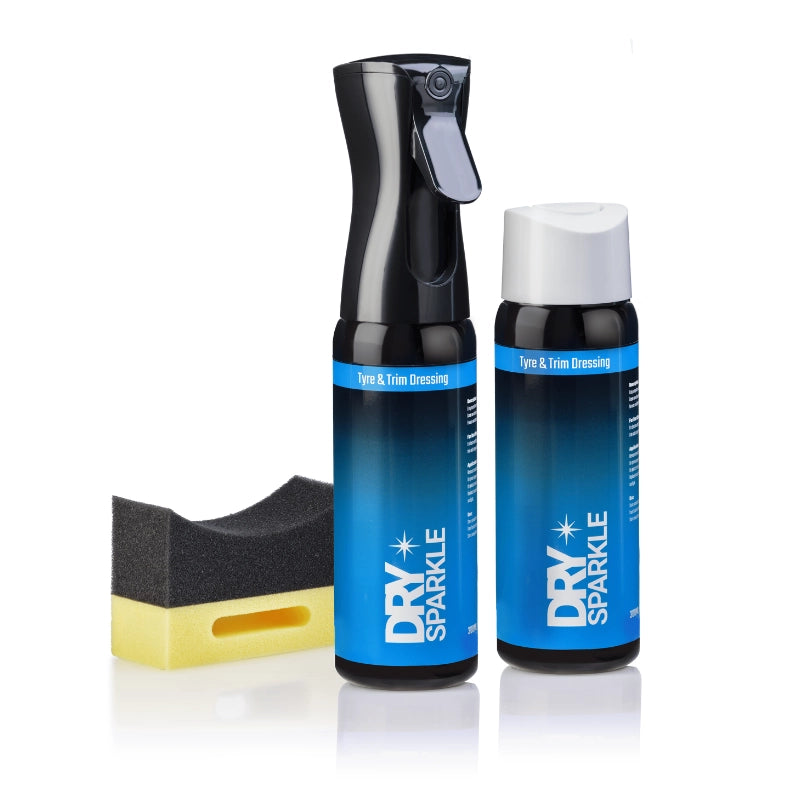 THE TYRES AND TRIMS DRESSING COMES WITH
1 x 300 ml bottle with a reusable trigger
1 x 300 ml refill bottle
1 x high quality tyre sponge
When you have finished the bottle, remove the trigger and put it on the refill bottle.
Any questions about DrySparkle?
Is DrySparkle guaranteed?

Yes, we stand behind our product and offer a full refund if you are not satisfied with your order. Our top priority is ensuring our customers are completely happy with their purchase.
Where are you based?

We are proud to be based in the beautiful South of England, where we draw inspiration from our stunning natural surroundings. As an environmentally conscious company, we are committed to creating products that help preserve our planet. That's why we've developed a waterless cleaning solution that allows you to clean your vehicles without wasting water or releasing harmful chemicals into the environment. Our location and love for our environment are reflected in everything we do, from sourcing sustainable materials to our manufacturing processes.
Do you manufacture the products yourself?

Yes, we are proud to manufacture our product ourselves. We source all the hardware locally in the UK, and the DrySparkle solution is formulated to our exact specifications right here in the UK. This allows us to maintain the highest level of quality and ensure our product meets our high standards.
How does delivery work?

We have chosen to use Royal Mail for our deliveries as they offer full trackability and proof of delivery, while also providing good value for money. Their vast network allows us to deliver to customers not just in the UK, but worldwide, ensuring our customers receive their orders in a timely and reliable manner.

How long does the delivery take?

Our goal is to get your order to you as quickly as possible, typically within 2-3 working days. We understand the importance of timely delivery and work hard to ensure our customers receive their orders in a timely and efficient manner.